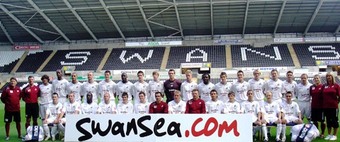 Swansea City face one of the biggest tests of their recent history on Saturday, as the newly promoted Welsh side host The Champions on Saturday afternoon. But, The Red Devils need to up their game and convert more of their opportunities to climb back up to the club's natural position: 1st…
---
Report By: Thomas Rooney, 11:00am
---
What a fitting way for Sir Alex Ferguson to mark 25 years at the helm of Manchester United than to have the north stand named after him. The newly named stand was unveiled before The Reds secured a 1-0 win over Sunderland, who are of course managed by one of Alex's former captains, Steve Bruce. Those looking at
bookmaker free bets
will agree that United were a lot more comfortable than the 1-0 score-line suggested at Old Trafford last week.
In truth, had it not been for Kieron Westwood's heroics in the Sunderland goal, the game could quite easily have been won by a cricket score. It was one of Alex Ferguson's former players who netted the winning goal. Former United defender Wes Brown showing everyone exactly how to finish with a cool header into the far corner of Westwood's net from an in-swinging corner. Conspiracy theories were rife at the full-time whistle !
The one alarming thing at the moment for Manchester United fans must be the side's incapability when it comes to putting the so called lesser sides to the sword. United have taken on Everton and Sunderland in the Premier League and have mustered only 3 goals. I am not for one minute being disrespectful to the Evertons and Sunderlands of the league but when a team puts eight past Arsenal they set themselves a certain level of standards.
Injuries to key United players have meant that Wayne Rooney has been utilised in more of a central midfield role. Whilst Rooney is the sort of player that would play in goal if you asked him to, Sir Alex must be keen to get him back at the forefront of United's attack in the not so distant future. One plus point is that in the last 4 games, in all competitions, United haven't conceded a goal. But, Rio Ferdinand has come under constant scrutiny in the press.
However, last Saturday week, he was a commanding presence at the heart of the United defence. David De Gea didn't feature on Saturday, but with every game he plays he seems to gain more and more confidence and let's face it that is what goalkeeping is all about. The United defence will continue to go from strength to strength and will no doubt continue to keep shut outs. This in combination with some more goals should see us regain top spot.
The key for Manchester United in coming weeks as far as those making
Premiership Predictions
are concerned is that they begin to put teams to bed. With games coming up against Swansea City, Aston Villa and in-form Newcastle United, I have a feeling that one goal will not always be enough to win games !…
If you are thinking of placing a bet on an upcoming United game, why not get some of the best Betfair Tips today !
---