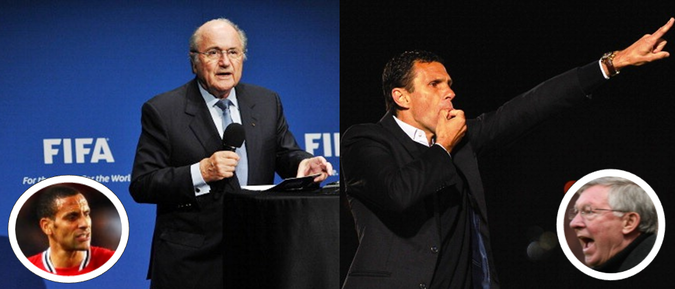 Racism Feud: Rio Ferdinand disgusted with FIFA President | Sir Alex angered by Brighton & Hove Albion manager
---
In the aftermath of
Liverpool's Luis Suarez charge of racist abuse by The FA of Manchester United's Patrice Evra
, the world of football erupted into a race row. FIFA President Joseph Blatter made astonishing remarks about the issue, saying it doesn't exist, and that any discrimination can be resolved with 'a handshake'. Meanwhile, Brighton & Hove Albion manager Gus Poyet launched a shocking attack on Evra, saying he was 'crying like a baby'…
On
Twitter
, Rio Ferdinand hit-out at Sepp Blatter, calling the controversial Swiss 'condescending', 'laughable' and 'ignorant'. In a midweek interview with
CNN
, the FIFA dictator denied racism was rife in the game, despite Liverpool's Luis Suarez and Chelsea's John Terry facing punishment over appalling racist abuse. He added that any incidents were 'forgotten' after a match, and that racism on the football pitch could be sorted out with 'a handshake'.
Blatter's failed attempt at the defence of his comments was met with rage among the public, football and political statesmen, and eventually led to a half-hearted apology. However, the idiotic head of football refuses to resign because it is not in line with his 'character'.
"I cannot resign. Why should I ?…"
said the disillusioned old man.
"To leave would be totally unfair and not compatible with my fighting spirit, my character, my energy."
---
Not only did Sepp Blatter condone racism, Brighton & Hove Albion manager Gus Poyet amazed readers and listeners, as he unbelievably gave his support – on two occasions – to fellow Uruguayan Luis Suarez in his racism case. "I believe Luis Suarez, it's simple. I never went out crying like a baby, like Patrice Evra, saying that someone had said something to me. I'm surprised, in a really sad way, that he has been charged. Really sad…" he blabbered.

Poyet also attempted to defend himself on a radio show on Talksport, where presenters and people who tuned into the programme couldn't believe what they were hearing. The former Chelsea & Tottenham Hotspur midfielder said that footballers who reported discrimination to match officials and authorities were 'cowards'. This provoked a major backlash online, on radio and on TV. Sir Alex Ferguson hit-back, saying his actions were 'inappropriate' and 'silly'.

"I'm surprised by Gus Poyet's remarks. I think that's inappropriate at a time when people throughout the world are condemning racism. I think he's chosen the wrong time. He's got to think more about it. His criticism of Evra is a bit silly". Sir Alex went on to stress that now Sepp Blatter has apologised, the FIFA President won't feel that he needs to quit, but the gaffer supported Rio's criticism and said his player was free to continue his 'Tweeting'.

---